A Versatile Veggie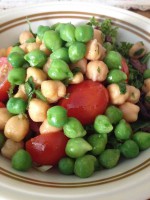 Nature's Classic Green Chickpeas have a more flavourful taste than regular canned garbanzo beans. They are great as a standalone vegetable item, and can also be used in hummus, soups, salads, entrees, side dishes, smoothies or stir fried vegetables. Nature's Classic Green Chickpeas have a very unique flavourful taste, making them a very versatile and convenient food product! Click here for great tasting Green Chickpea recipes.
What Makes them Green?
Picked early, a GREEN CHICKPEA is simply a normal garbanzo bean harvested while immature and still in its live green state full of natural moisture and colour. Green Chickpeas do not need to be reconstituted with water & preservatives, rather they are rushed from the field to be washed, blanched and flash frozen, locking in the natural colour, moisture, nutrition and flavour! Learn more about Green Chickpeas
What Makes them Better?
20% more protein (10g/serving) than blonde garbanzo beans and loaded with antioxidants.
Zero sodium.
All Natural, Non-Allergen, Gluten Free & Kosher.
Heart Healthy, Boosts Immunity, Provides Energy, Supports Weight Loss.
Harvested without the use of insecticides supporting sustainable agriculture practices.
Provide Great Green colour pop to an Appetizer, Entrée, centre of the plate, Salad Bar or any Combo Salad, Main or Side Dish.
Raised on small Family Farms in the Pacific Northwest. 100% Product of North America.
Why Should I Use Them?
Healthy Snack – Feel good about eating right.
Protein – Meat Alternative, Protein Replacement.
Convenience – Easy to handle and use.
Versatility – Add to salads, stir-fry or serve stand alone. Can be puréed for dips, spreads on flatbread, soups and hummus.
Colour – Very eye catching bright green color.
Flavour & Texture – Smooth, moist and sweet with just the right amount of crunch.
Truly the next great super-bean!
Compare Green Chickpea Nutrition to Traditional Blond Chickpeas
Green Chickpea carbohydrates are derived from dietary fibre, (considered good carbs) where traditional Blond Chickpea carbs come from starch.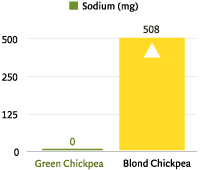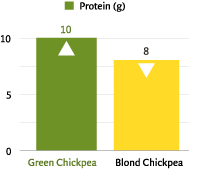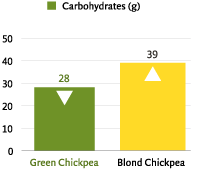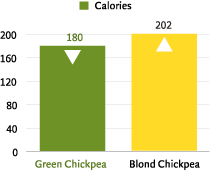 Green Chickpea Nutrition Facts